House of Mercy is heading North (like a couple miles). After over a year of searching for a new location that would accommodate our budget and our needs for space, we've decided on Hamline Church.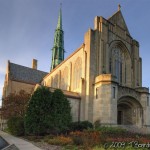 We had two really good options but after opening up the churches for people to tour, and soliciting feedback from the community there was an overwhelming consensus for Hamline.  Thanks everyone for your help in making this decision. Look for more information to come.
We're confident that this move will make all of us more compassionate, and better looking.