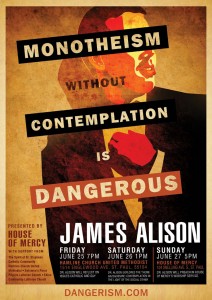 What if you got a chance to listen to Martin Luther or Karl Barth? James Alison does theology in a way that makes us believe that this whole Christianity thing might have some merit. It even makes us believe it could be true — and if it is, it's the most lively, creative, hopeful thing there is.
We implore you not to miss this opportunity.  It's like a chance to see the Beatles before the '65 U.S. tour or Ratzinger before the white smoke went up the chimney.
This Friday, June 25: 7pm Dr. Alison will reflect on issues Catholic and Gay at Hamline United Methodist Church, 1514 Englewood Ave. St. Paul, 55104.
On Saturday, June 26: 1pm, Dr. Alison explores the theme Gaze & Desire: Contemplation in the Light of the Social Others also at Hamline United Methodist Church, 1514 Englewood Ave. St. Paul, 55104.
And certainly don't miss Dr. Alison preaching at the House of Mercy worship service on Sunday, June 27 at 5pm. 104 Snelling Ave. S, St. Paul 55105.
For more information on Dr. Alison's work and writings go to jamesalison.com.
Many church communities have joined together to make this event happen:
The Spirit of St. Stephens Catholic Community
Hamline United Methodist Church
Solomon's Porch
Pilgrim Lutheran Church
Edina Community Lutheran Church
However, we are also looking for your support, it doesn't need to be much. Your donations will make this event a success. Audio and video recordings of the sessions will be posted for all the world to experience . . . and if you ask for it, we will send you a super nice event poster by Jon Riechel.
To donate, visit the House of Mercy website;  houseofmercy.org and click on the donate button.