House of Mercy Presents
The Funereal Remembrance of Luke the Drifter
**Call to Performers, Songwriters, Designers and Roustabouts:**
The Funereal Remembrance of Luke the Drifter is a participatory musical theatre experience set at the Bradshaw Funeral home on Payne Ave. in 1977. The show will run 3 nights, October 13, 14 & 15 at 8 pm each evening. The 1920's era funeral home will be torn down the week after the show.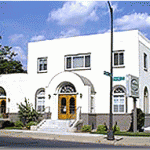 The Funereal Remembrance of Luke the Drifter is a re-imagining of the life and death of Hank Williams, Sr.'s alter ego.
The Call: The show will be a funeral service for Luke with his remaining friends and family eulogizing him and playing his songs. We need songwriters to write Luke the drifter songs to be performed in the show and possibly be included on the original sound track CD. We need characters (old friends, cell mates, drinking buddies, band mates, bartenders, preachers, family members, ex-wives, children) you can create the character yourself or we will make one up for you. We need designers for posters, tickets, handbills, costumes, and the set.
Please respond with your interest and/or proposals—like immediately—we need completed songs by 8/19. You can write an original for the show or loan one you might already have that would be appropriate.
Respond to: Russell@houseofmercy.org, 651 283-9758
The show is a fundraiser for House of Mercy and Mercy Recordings, all songs and performances will be donations. All proceeds form the show will go to help keep the Mercy flowing.
Thank you so much for your consideration.
The Concept: Cyrus "Luke" Barfield, (aka, Luke the Drifter, Ol' Luke, Luke the Preacher, Cy) was born in Indianola, Red Willow County, Nebraska in 1919. Luke grew up singing in the choir at the Free Methodist Church and taught himself guitar by listening to the Radio. He wrote his first song at age 12, called But I Know How I Otta Live, a gospel number. Luke began drifting and playing at barn dances and roadhouses through out the Midwest and the South when he was sixteen. What little money he made, he began drinking away at the venues he played.
It was early one Sunday morning when Ol' Luke was nudged awake up by a preacher, whose Church's back steeps he was sleeping on, that he had a sort of revelation. The preacher asked him what he was doing there, and with out missing a beat, Luke told him he was a traveling preacher that used his guitar and his voice to bring the saving message of the gospel to people. He explained, talking of the cuff, that some folks can hear in a song what they won't listen to in plain talking, and that if the preacher gave him the privilege of playing for his congregation, he would ask only that they took up a collection at the end, for some traveling money.
The preacher, Luke said later, seemed a little doubtful, but invited him to play. Luke said this was where he developed the recitation type song that he became known for. "I was standing up there in front of that congregation, after the preacher introduced me as Luke the Drifting Preacher, and I had no idea what I was going to do, so I just started strumming an old hymn I knew, I sang the refrain and then just sort of kept strumming the guitar and told a sentimental story about a broken man who ran out on his little girl and the girl's Mama, 'cause a drink. I could see the congregation folks sort of sitting up and listening hard, so I went on and had that little girl pray her Papa home. I basically did three or four more of the like and when they passed that plate there was more than twelve dollar for my pocket."
Luke the Preaching Drifter traveled for years from town to town playing the local bars on Saturday night and performing his recitation songs in the local churches Sunday morning. It got to a point around 1944 or 45 (he couldn't join the Service because of some thing to do with a bad foot, I am not sure of the exact nature of the ailment) that his Sunday morning performances where in such demand that he would play two or three different churches in a day, in addition to special mid-week services. He bought a Cadillac, added a band and even recorded 2 records.
Some time in the early to mid fifties, in Austin, MN, he ran afoul of the law (again the exact nature of the afoulness is not clear) but it was enough to send him to prison for several years and enough to be carried in local papers from Duluth to El Paso, effectively ending any possibility to play the churches and revivals. He was paroled out of the state prison is Stillwater and mostly lived around St. Paul after that. He continued to write every kind of country song, trying to make some kind of come back, but he never was too successful.
Cyrus "Luke the Drifter" Barfield, was found dead in the trailer he rented in Lauderdale, Minnesota, October 7th, 1977.
While he was all but completely forgotten by the public, some of his remaining friends and family thought it right to give him a proper funeral. It seemed only right that the service should be filled with not only folks eulogizing him, but with folks playing his songs.