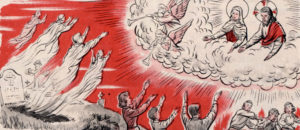 Youngster Program Mission
The mission of the House of Mercy Youngster Program is to point youngsters to the grace of God revealed in Jesus Christ by the following means:
Learning the story of Jesus and the story of God's dealings with the Hebrew people
Exploring & experiencing the classic elements of Christian worship
Celebrating God's gifts of creativity by making songs, images and stories
Fostering an ethic of care and a sense of responsibility for each other and for all of creation
Motivation: Free Faith Instead of Religious Manipulation
At its best, the Church in its history has been moved by the Holy Spirit to proclaim Jesus Christ as the Good News of God's radical love and engagement with the world. But at its worst, the Church has used tactics such as manipulation, fear and shame. Since children are especially vulnerable to such tactics, we believe that we must pay great attention to what motivates our attempts to teach our children about Jesus Christ. While our community is far less than perfect, our aim is to create a climate of trust and to foster receptivity to the love of God as revealed in Christ and experienced in worship. That is, we aim to have no other agenda than simply pointing to the free, radical and life-changing grace of God that is given to us in Jesus Christ.
During the Sunday service, a nursery is available for infants and toddlers.
Youngsters  participate in the beginning of the church service and leave for class via the Youngster Parade. The Elder Youngster (youth) program is for 6th graders, middle and high schoolers. All ages are also welcome to stay during the service.
For more information, please contact Susie Abramson, Youngster Program Coordinator, at youngsters@houseofmercy.org.
Volunteer this summer: Sign up here to tell your story to youngsters in preschool through (completed) 5th grade.
Last summer was amazing, with so many people from the congregation sharing what they do for work or hobbies. The youngsters learned something new about trees and water conservation and death and city planning and architecture and music and quilting and SO MUCH MORE. Plus they got to know some people in our congregation just a little bit better. Our summer program begins June 11th. Everyone has SOMETHING to share. And we'll help you get everything organized and prepared. Contact Susie to claim your date now, youngsters@houseofmercy.org or click on the link above.