The Skally Line October 16, 2016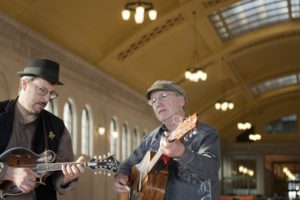 The Skally Line brings a passion for old country music, fiddle tunes, blues, ballads, and gospel. Fred Keller and Tom Cornish also write music with an especial focus on Minnesota stories and themes and both enjoy tight arrangements that put the sizzle on each piece of musical steak. Primarily guitar and mandolin–but recently adding a clawhammer banjo option! –you'll also hear a little fiddle playing from Tom and, if you ask nice, Fred gets the Commodium out and they'll play some Papa Charlie Jackson or Ishman Bracey for you. Mostly what they do is have more fun than humans should be allowed to have.
http://www.deepnorthmn.com/duet-the-skally-line/
---
Holy Hootenanners October 23, 2016

Holy Hootenanners is a group of like-minded musicians united by a small country church in Mahtowa, Minnesota. They play foot-stompin', hoot-n-holler country gospel and much more. The band is a non-profit and all proceeds help to create community as well as promote music and the arts.
---
Checkout the News & Events calendar for more upcoming guest artists.