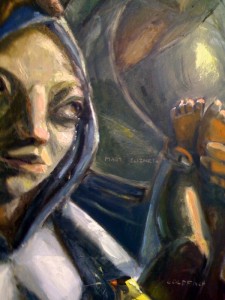 British Catholic Theologian, James Alison is coming to House of Mercy, a church in St. Paul, MN, June 25th – 27th.
He will speak Friday 7pm, Saturday at 1pm and 7pm, as well as in the 5pm Sunday worship service.
Dr. Alison will be reflecting on the theme Gaze & Desire.
"Monotheism without contemplation is dangerous."
James Alison
We are formed by the gaze of the social other:  the dominate narratives of our world. We get our desires from outside of us–our selves are only selves in relation to an other.  We learn what to desire from what the culture tells us to desire, from what people we admire tell us to desire.  Unless we remove ourselves from time to time from the social other's gaze, our desires will be for things that do not necessarily give us life (fame, fortune, celebrity, winning, being better than other people, false intimacy, fake food,  commercial success,  blah blah blah on and on).  Our desires will be distorted.  The Christian story is about the possibility of being formed by the gaze of Another Other, who is outside the machinations of human meaning making. the God of radical mercy and the instigator of true desire.
Contemplation is the practice of removing ourselves from the gaze of the social other.  Prayer is going into the closet so that our desires might be reoriented towards what truly gives us life.
We are spending this liturgical year attempting to work out what this means in our own lives and the life of the community.