This month we'll be hearing from:
Colin McDonald – Earned his MFA in poetry from Hamline University, in Saint Paul where he currently teaches preschool and sells books. He enjoys drinking coffee in museums and writing about reading at commongoodbooks.blogspot.com.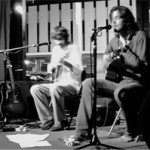 Mother Banjo – Selected as a 2008 Midwest Finalist in the Mountain Stage NewSong Contest, Mother Banjo is a one-woman band featuring Ellen Stanley on banjo and vocals. Her music combines the haunting sounds of traditional folk and gospel with contemporary alt-country and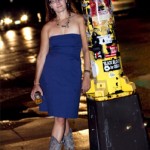 Americana hooks. Poetic and rich, her songs are sad, sweet and full of the stories that inhabit the wide open prairies of the Midwest.              www.MotherBanjo.com.
Adam Koehler – music more often play to the ears of silent walls and empty apartment rooms than eager crowds, but listen closely—his songs bring a personal tone of curiosity, doubt, and the pursuit of goodness in our sometimes murky world.
Friday May 4th, 7-9pm.  The First Friday Showcase at Ginkgo Coffeehouse in St. Paul.
721 N. Snelling Ave., St. Paul, MN.  Free. All-ages. Kid-friendly