The Fireroast Mountain Boys play a wide variety of music in a spirit of
community celebration and audience participation. The Boys' sound is a mix of originals and covers, running the musical gamut from acoustic blues to jazz to country to folk to rock and roll and back again. A typical performance will include familiar covers and Fireroast Mountain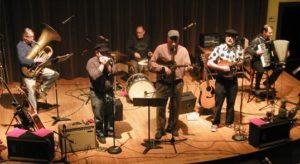 Boys original material and arrangements of songs.