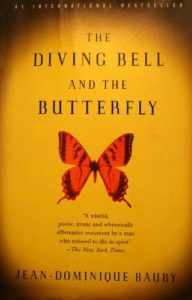 The House of Mercy Book Club is reading "The Diving Bell and the Butterfly: A Memoir of Life in Death" by Dominique Bauby.
The next book club meeting is on Monday July 12 at Marty Tanquist's house:  3246 Black Oak Drive, Eagan (really, just over the river).  Call 651-406-8188 for more information or for directions.
The upcoming book discussions and tentative dates are:  Tuesday August 10 – The Curious Incident of the Dog in the Nighttime, by Mark Haddon.  Tuesday September 14 – The Help, by Kathryn Stockett.