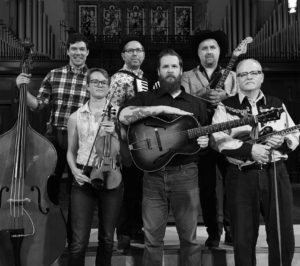 The Blood Washed Band is a local alt-country group and the house band at House of Mercy, led by Brother Quillan Roe. Inspired by old time country gospel songs and hymns, the band's repertoire includes songs by the Carter Family, the Louvin Brothers, Gram Parsons, Johnny Cash and The Band.
In addition to the leadership of Bro. Quillan Roe (Roe Family Singers), other regular members of the band include: keyboardist and accordionist Erik Brandt (Urban Hillbilly Quartet), electric guitarist Jeremy Szopinski (Urban Hillbilly Quartet, artist ), Jonah Hacker (Broken Heartland String Band) on bass, Bob Douglas (The Tune Jerks and was an original member of the Powdermilk Biscuit Band on Prairie Home Companion), Alissa Jacobsen (Thrift Store Sonata and Mississippi Hot Club), Levi Stugelmeyer (Charn) on drums, and vocalist Angie Talle (House of Mercy Band and many fabulous mosaics around town).
More info at their website www.bloodwashedband.com and on Facebook.
Blood Washed Band performances recorded at House of Mercy: